I have more than 30 years of experience with information, communication
and project management, including training and lecturing.
With expertise in intercultural and accessible communication and in human rights,
I have been invited to present keynote addresses and workshops
on easy-to-read and comprehension at several international conferences.
My background
My formal background is a Bachelor of Arts in Cultural Sciences from Uppsala University,
majoring in Educational Psychology and Drama.
I have worked at NGO's and at national agencies
with hands-on production of information and tutorials,
as well as with training and lecturing.
The encounter among humans, the dialogue, the exchange of ideas and beliefs
have always interested me.
I believe in my heart that we are all equal and should be treated the same way
regardless of differences in skin color, sex, religion, language, abilities etc.
I love words. Long words. Short words. Strange and unfamiliar words.
Words that are fun to say.
I am constantly collecting difficult expressions, crazy words
and totally incomprehensible information signs.
These findings always seem to show up, one way or another,
in my workshops or presentations!
A new start
After more than 30 years of non-profit employment,
I decided it was time to focus my passion and expertise
on my own new business.
It is my small contribution to make the world
a better place for everyone, a society accessible for all.
Looking forward to starting the dialogue with you!
Wishing you all the best, Ulla Bohman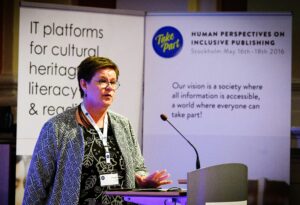 <- Return